Home | Up one level | Previous | Next

Installed 16 Sep 2011. Latest update 03 May 2019.
Changes or additions to text are in bold.


The Mithraeum at Caesarea Maritima

Area CV Block Plan of Excavation Units 1991-1992. (The Mithraeum is represented by the longer black rectangle.)
Google Earth KMZ overlay courtesy of Bill Isenberger.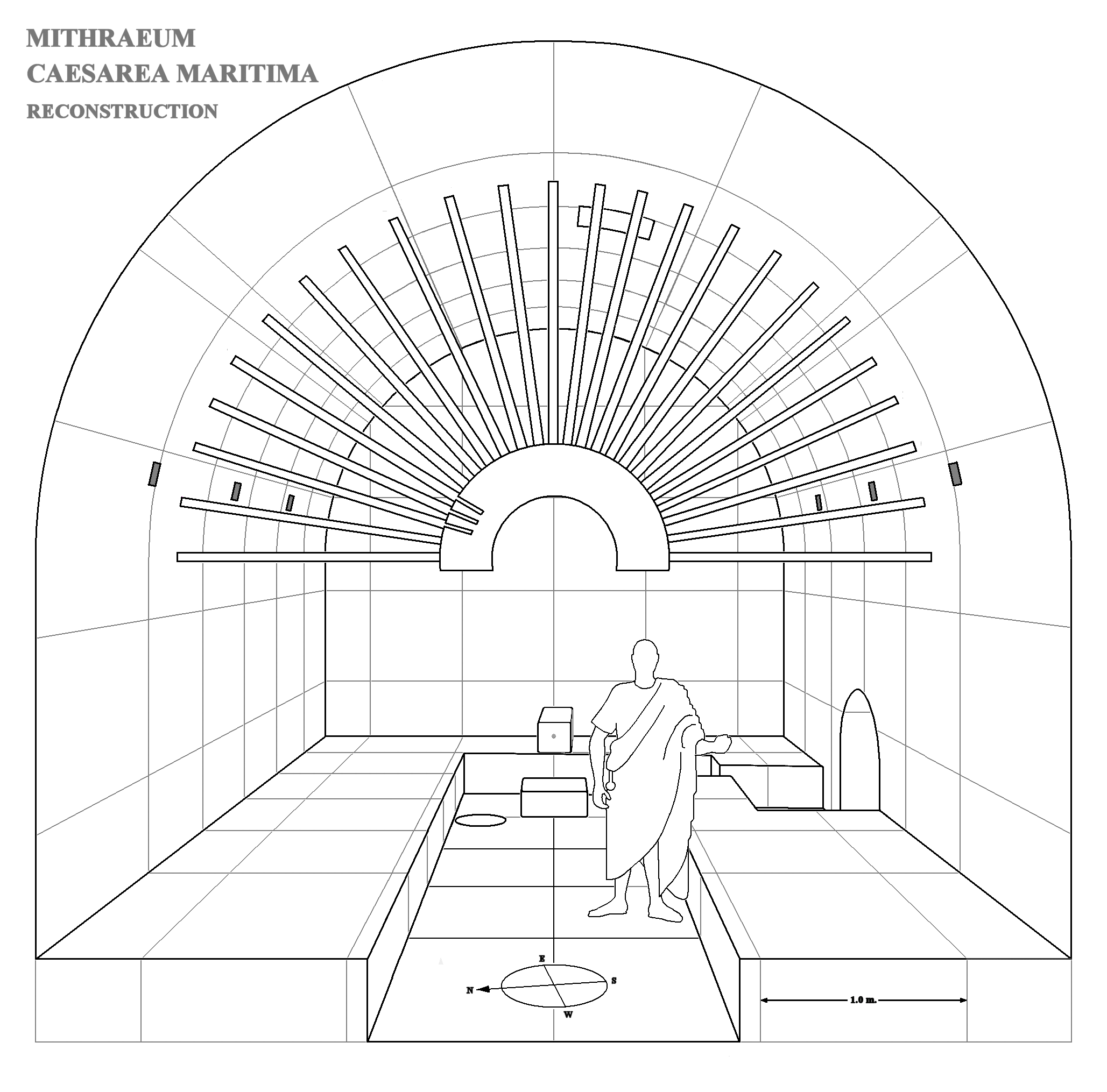 This drawing is based on descriptions in: Bull, R. J. (1975) The Mithraeum at Caesarea Maritima.
Acta Iranica, 4: 75-89, Blakely, J. A. (1987) The Joint Expedition to Caesarea Maritima,
Excavation Reports, Volume IV, The Pottery and Dating of Vault 1: Horreum, Mithraeum and
Later Uses, The Edwin Mellen Press, Lewiston, New York, USA and Queenston, Ontario, Canada,
and on photographic analysis of the vault interior (the splay area) conducted in 2011-2012.
The height of the roman in toga is 5.2 feet (1.58 meters).
The American Schools of Oriental Research publication
THE JOINT EXPEDITION TO
CAESAREA MARITIMA
EXCAVATION REPORTS
VOLUME II THE MITHRAEUM
AT CAESAREA MARITIMA BY ROBERT JEHU BULL, DIRECTOR
with
JANE DEROSE EVANS,
ALEXANDRA L. RATZLAFF, ANDREW H. BOBEK,
and ROBERT S. FRITZIUS Available for purchase at Amazon.com on 27 Jun 2017.
Contact: Bob Fritzius at:
fritzius@bellsouth.net